Portable Toilets For Rent in Northern MN
Porta Potty Rentals
Portable restrooms are the perfect solution for residential or commercial locations without water or electricity. These single user units are generally a one-toilet facility and can be used alone or in multiple units depending on the need. Jeff's Restroom Trailer Rental offers complete servicing including washing the unit, keeping supplies stocked and removing the waste from the tank.
Our standard portable toilet sets the standard for the sanitation industry. With its lightweight, compact, sturdy design, and its user-friendly functionality, this is the portable restroom of choice wherever people spend significant time outdoors.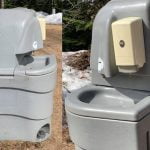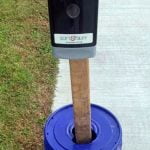 For a high-end level of service, portable restrooms can be accompanied with top-quality hand-washing sinks and sanitizing stations.  Ask us for more information.
Daily, Weekly, Monthly & Long Term Rentals
Full service setup and delivery of portable restrooms and handwashing stations is available within a 60-mile radius of the Grand Rapids, MN area.
Jeff's provides the best service and highest quality portable toilets; and we are ready to help you determine how many and what kind of restrooms you need while paying careful attention to budget concerns.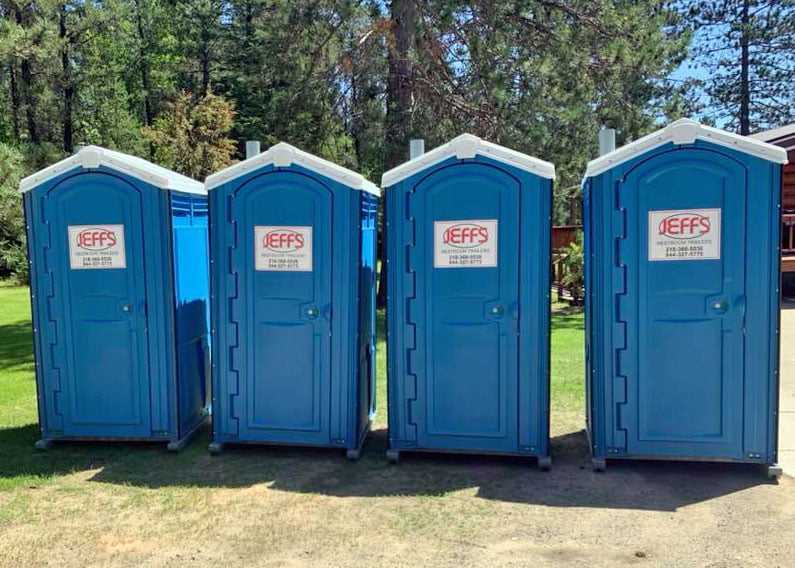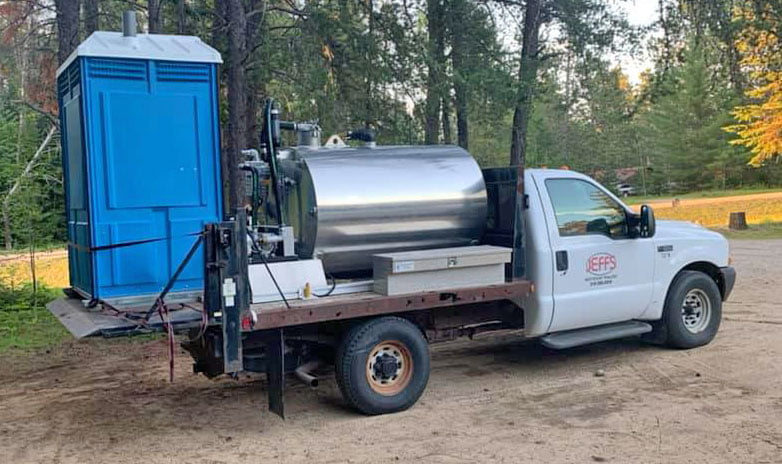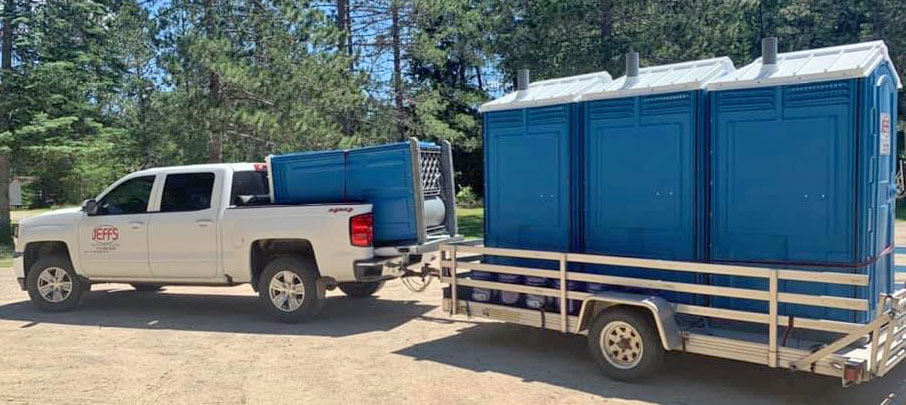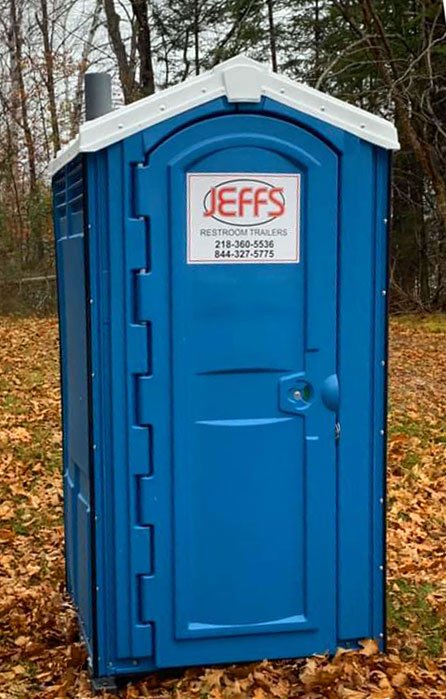 Standard Portable Toilet Standard Features:
Maximum ventilation
Roomy interior with 17.4 percent more interior space than other standard units in the industry.
Anti-slip floor surface for improved safety
Occupancy signal latch
Two tissue rolls
Sanitary seat deck and floor design
Translucent roof for better lighting
Easy to service and clean
Standard Portable Toilet Specifications:
Height: 88″
Width: 44″
Depth: 48″
Weight: 170 lbs.
Holding Tank: 70 gal. (227 L)
Door Opening:  72″x 24″
Call 218-910-9061 to reserve your portable restroom rental.
Portable Restroom Unit Estimator
How Many Restrooms Do You Need?
How to use this chart:
Determine how many hours the event will last. If it is multiple days, use the longest day.
Determine how many people will attend. If there are multiple days, determine the peak day.
Use the chart to calculate the number of portable restrooms needed for adequate sanitation conditions.
Plan for more if food and beverages are being served and if there are intermissions causing a surge in people seeking restrooms.
If alcohol is being served, add 15-20% more restrooms.
Don't forget to order handicapped units and hand sanitizers for each unit.

Keep in mind that this is an estimate. One unit provides approximately 200 uses.