Construction Site Portable Restrooms
Jeff's Restroom Trailer Rentals offers construction site restroom rentals. Rent our porta potties or portable hand wash sinks and keep your job site work area clean and comfortable. Providing portable restrooms on-site helps increase construction worker productivity as workers do not have to leave the job site to use a restroom at a nearby business or convenience store.
Let Us Help Make You OSHA Compliant
OSHA requirements state that construction employers with 20 or fewer employees must provide one on-site toilet for workers. Employers with 20 or more employees must provide one toilet and one urinal per 40 workers. Employers with 200 or more employees must provide one toilet and one urinal for every 50 employees.
To ensure optimal restroom cleanliness and sanitation, our portable toilets (aka porta potties) utilize unique chemicals that quickly break down waste and kill bacteria and germs. Jeff's portable toilets are built with sturdy materials designed to withstand a construction site's tough environment. Our restrooms are delivered clean and graffiti free. 
We service all our portable restrooms and all waste is disposed of in an environmentally-friendly way in accordance with all laws and regulations.
Ask About our Mobile Porta Potty
Our mobile portable toilet is perfect for road construction sites or changing locations. Already on wheels, this restroom can be easily hooked up to a trailer hitch and moved to a new location quickly.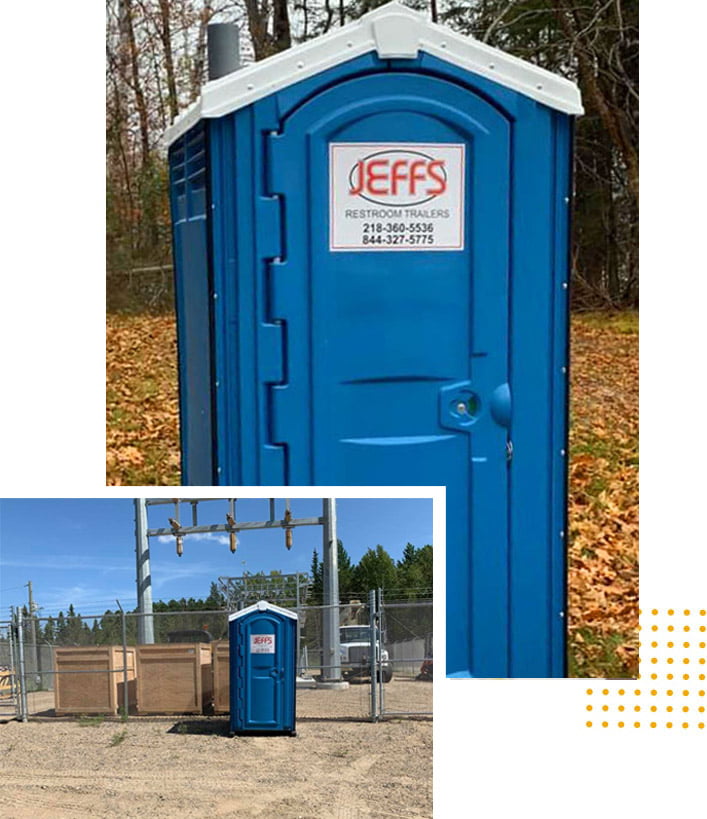 Jeff's Services a 60-mile Radius of Grand Rapids
Portable Restroom Unit Estimator
How Many Restrooms Do You Need?
How to use this chart:
Determine how many hours the event will last. If it is multiple days, use the longest day.
Determine how many people will attend. If there are multiple days, determine the peak day.
Use the chart to calculate the number of portable restrooms needed for adequate sanitation conditions.
Plan for more if food and beverages are being served and if there are intermissions causing a surge in people seeking restrooms.
If alcohol is being served, add 15-20% more restrooms.
Don't forget to order handicapped units and hand sanitizers for each unit.

Keep in mind that this is an estimate. One unit provides approximately 200 uses.